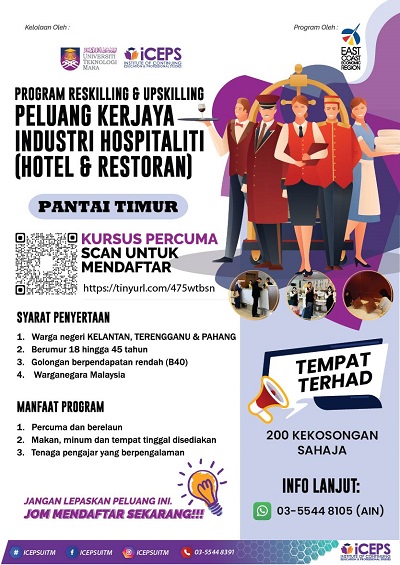 Hi semua ❗❗❗
?‍? UPSKILLING AND RESKILLING PROGRAMME (TRAIN & PLACE) BERSAMA UiTM ?‍?
Peluang kerjaya dalam Industri Hospitaliti
(Hotel dan Restoran) ?
Latihan PERCUMA Khas buat rakyat Pantai Timur !!
? ELAUN disediakan?
? Makan, minum & penginapan PERCUMA ?
? Tenaga pengajar PROFESSIONAL ??‍?
Program Reskilling and Upskilling (Train & Place) adalah program anjuran Majlis Pembangunan Wilayah Ekonomi Pantai Timur (ECER) dengan kerjasama UiTM bagi meningkatkan taraf ekonomi rakyat pantai timur dengan latihan berpusat dan 200 PELUANG PEKERJAAN sejurus tamat latihan.
KRITERIA PESERTA: ??‍???‍?
✅ 18 hingga 45 tahun
✅ Hilang pekerjaan/belia lepasan SPM/IPTA/IPTS
✅Golongan berpendapatan rendah (B40)
✅Warganegara Malaysia
-----------------
PAKAT MAGHI SEK KITO DAFTAR SLALUH DEH ✍?
Daftar Disini : https://tinyurl.com/475wtbsn
TEMPAT ADALAH TERHAD!!
-----------------
Sebarang pertanyaan, sila hubungi:
?Encik Rifqi - 0137922819/03-5544 8105
https://kerjayaHOSPITALITY2022.wasap.my
?Puan Farhani - 0126106008/03-5544 8334
https://TrainPlaceProgram.wasap.my
Info lanjut : https://www.facebook.com/empowerecer.uitm